Alright… so this was supposed to be  a Top 10 list.  
Trying to force myself to pick only 10 cities out of hundreds would be like telling me I could only eat one m&m out of a barrel-full.  Yeah, not happening!   The best I could do was a Top 30.  It's hard enough for me to make a "Top" or "Best" list of anything travel-related, since I am the type that literally loves everywhere I go, for whatever experience it brings — every place is unique and meaningful in its own way.  
So, for me, this would really be my "Top 30 Cities in Europe I'd Love To Go Back and Spend More Time In".  But that's a stupid title.  Anyway, without further ado…  I present to you my Top 30:
 (Side note:  all pictures below were taken by me, just like all other pictures you'll find on wanderluster.net)
 1.  Istanbul, Turkey
Ah, Istanbul.  You never cease to mesmerize me with your exoticism.  Straddling the Bosphorus Strait between Europe and Asia, this amazing city really enchants and awakens the soul.  No matter how many times I've seen it, the Blue Mosque takes my breath away every time.  Turn around and the Hagia Sophia's beauty and rich architectural history takes away another one.  Obviously, there's much more to the city than its two main sights, but what sights they are.  Love you, Istanbul.  Now enough of that sappiness, somebody get me a döner kebap!  mmmm… 
2.  London, England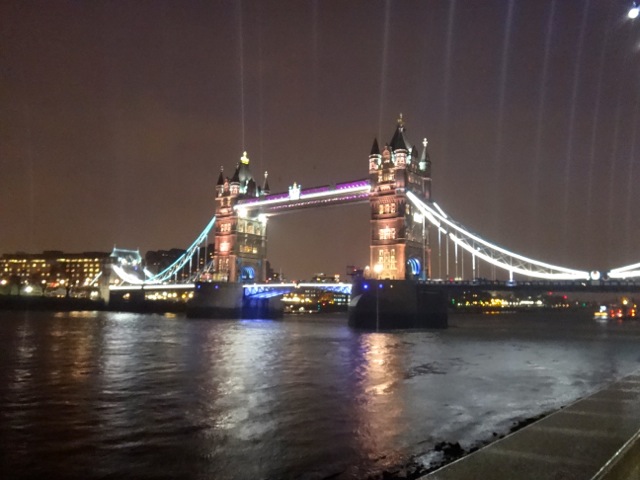 I♥LNDN.  Yeah, it doesn't quite work like it does with New York, but whatever.  I love London.  So much!  I've been there six times now, and I still can't seem to get it out of my system.  I almost moved there in 2011 and definitely will live there someday!  Why do I love it so much?  It's one of those cities that's really got it all.  A true international, diverse, global city.  Yes, I know some say New York also "has it all", but London's got a little something extra — and I'm not just talking about the accent.  Not to mention, it's so close to everywhere else in Europe, I could literally go to a different country every weekend!  And I would!  …I mean I will!
3.  Paris, France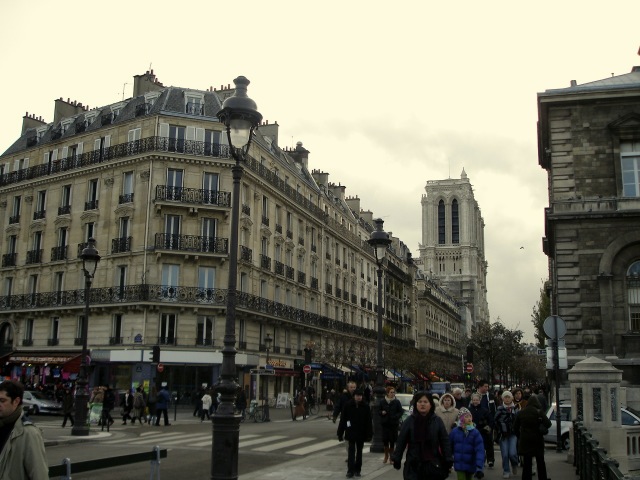 Well, of course Paris is on the list.  Paris is just non-stop beautiful.  Every part of it is beautiful, not just the "historic centre" or the "old town" like some other cities.  Paris was one of the first cities outside of the U.S. that I'd visited, and so it has a special place in my heart.  Every time I visit, I discover something new, and fall in love all over again.  The Notre Dame de Paris is one of the most famous cathedrals in the world and an extraordinary example of Gothic church architecture.  And no matter how cliché you may think it is, or how many times you see it, la Tour Eiffel is still an awesome sight.
4.  Frankfurt, Germany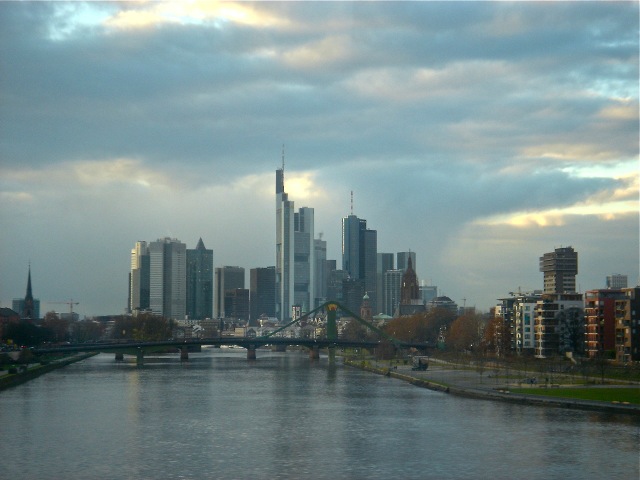 Really, Frankfurt?  Yes, Frankfurt.  Along with #3 above, Frankfurt holds another special place in my heart.  The airport almost as much as the city itself!  On my many trips to and from the Middle East as a little guy visiting the family, Frankfurt was almost always the layover city.  I got to know that airport really well.  But forget the airport – the city itself is notable for being the skyscraper capital of Europe, which had always intrigued me.  That, juxtaposed with its historic centre and its proximity to the wonderful towns and castles along the nearby Rhine, gives Frankfurt-am-Main #4 status on my list. 
 5.  Barcelona, Spain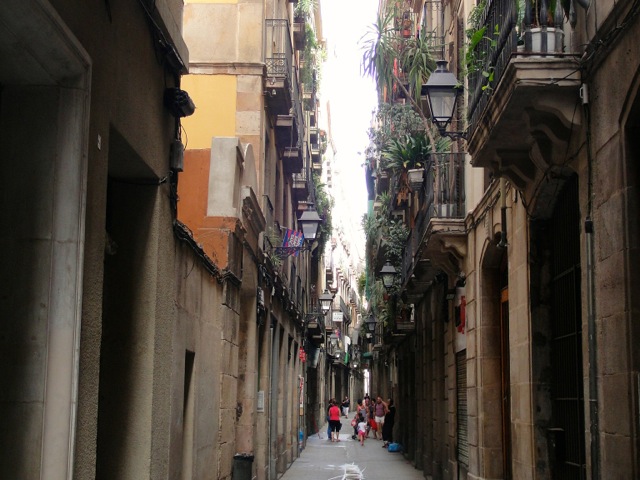 I didn't see Barcelona coming.  When I first visited this city back in 1999 on my quintessential college-era backpacking trip, I expected the awe-inspiring architecture of Antoni Gaudí's Sagrada Familia, Parc Güell, and Casa Mila — what I didn't expect was the extraordinary life this city had.  It was overflowing with it!  And it just sucked me right in.  From the bars and restaurants of Las Ramblas, brimming with irresistable tapas and pitchers of  sangria, to the phenomenal architecture of the Barri Gòtic and Eixample, Barcelona jumped straight to the top of my list of fave cities!
 6.  Venice, Italy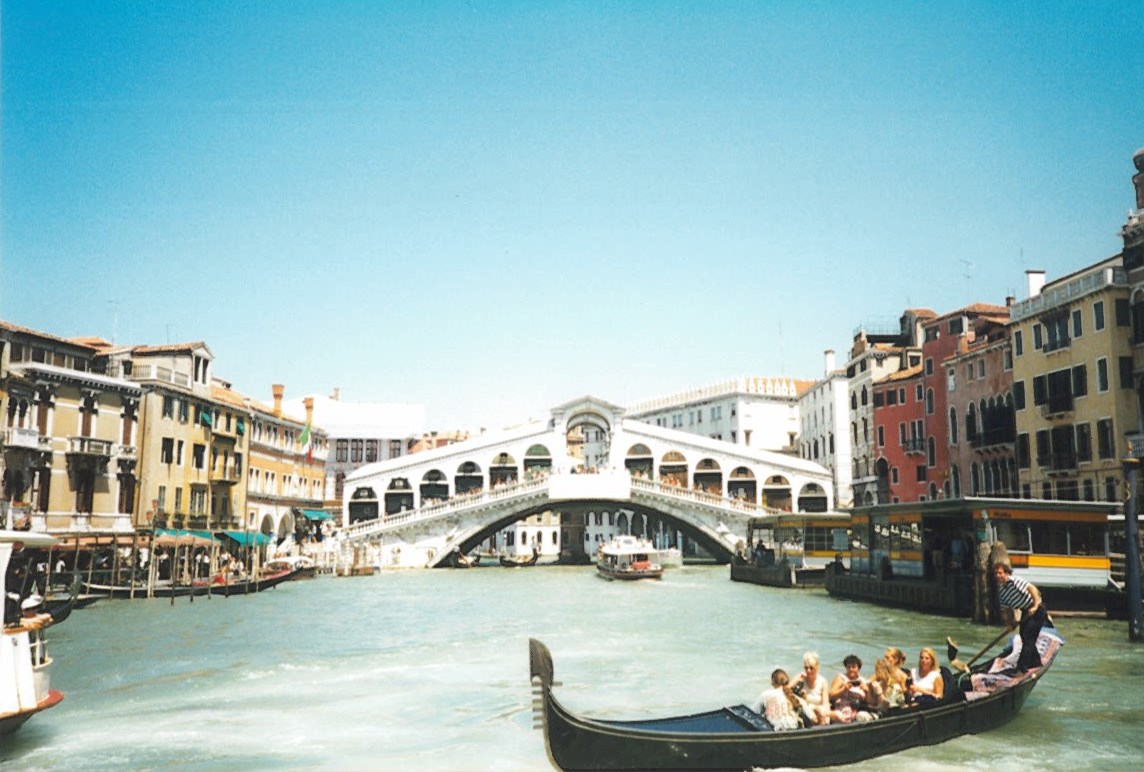 "La Serenissima", "Queen of the Adriatic", "The Floating City"… sometimes referred to as the most beautiful city in the world — Venice is not lacking in superlative nicknames.  And you hear it throughout your entire life, making you wonder if it's really as great as everyone says it is.  With all that built up 'expectation', you can imagine how surprised I was when I stepped right out of the Santa Lucia station and was facing one of the most beautiful sights I'd ever seen.  It really is one of those places you just can't overhype no matter how hard you try.  And if there were awards for most awesomely-sited train stations, well, here's one contender.
7.  Brussels, Belgium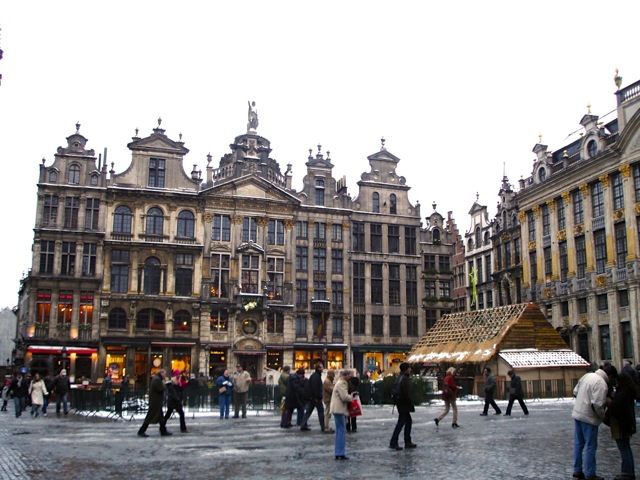 With the Big Five (France, Germany, Spain, Italy, Switzerland) on most people's Europe bucket lists, I'd never really given Brussels much thought before I found myself having a several hour layover there.  I immediately hailed a cab to the centre, and once I saw it, proceeded to call myself an idiot (repeatedly) for not giving this city the time of day before.  Brussels is a MUST-see!  Not only was the Grand Place one of the most beautiful city squares I've seen, I had time to sample some of the world's finest beers, arguably the world's best chocolate, and definitely the world's best Belgian waffles.  Yum.  It wasn't nearly enough time, but it was just enough to get me to come right back to Brussels the following year!
8.  Strasbourg, France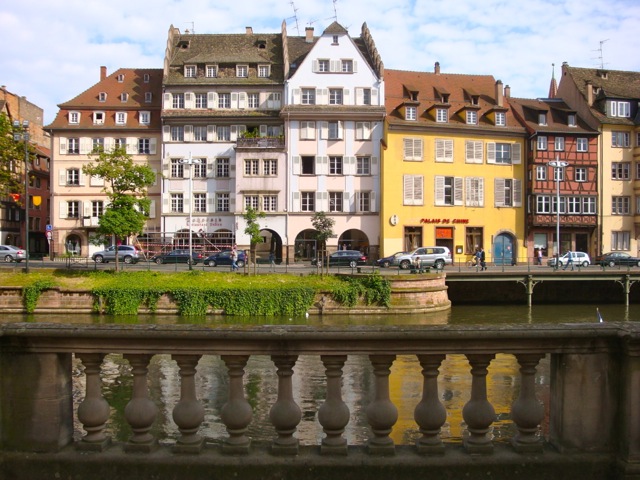 How Strasbourg isn't more famous than it is, is truly baffling.  This city very much deserves to be in anyone's top 10.  It is uniquely beautiful in a way that is purely Alsatian.  Located on the border with Germany, Strasbourg has a style all its own.  Its towering rose-hued Gothic cathedral looks down upon countless thatched roof Alsatian-style houses and shops, each with balconies overflowing with tiny pink and red flowers.  It looks magical, it looks like a fairy-tale.  It looks like… well, Strasbourg.  It's just gorgeous.  And this makes France the only country with two cities in my top ten!
9.  Salzburg, Austria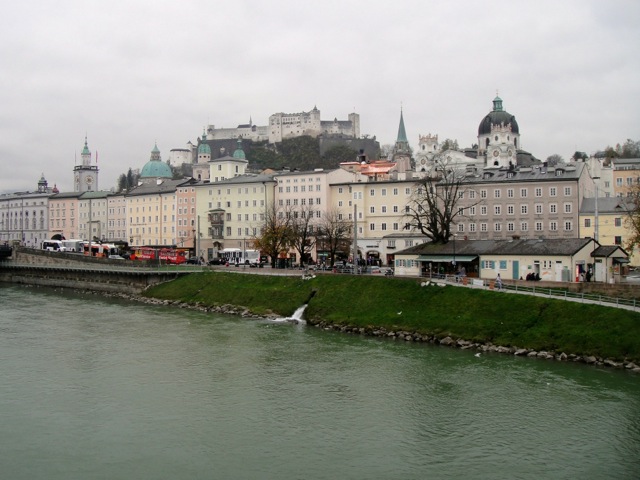 Salzburg before Vienna?  Absolutely!  Now, I love Vienna, don't get me wrong… but wow, Salzburg!  I mainly wanted to visit this city because of its fame in being associated with Mozart and the 'Sound of Music', but it doesn't need any help being famous!  It's so dazzling all by itself.  Getreidegasse, one of Salzburg's main streets and also one of its oldest, is a delight to explore — it's almost impossible to walk its length without popping into a boutique, a café (try a Salzburger nockerl with a real coffee), or a konditorei (stock up on the original Mozartkugel from the Fürst confectionary!).  The rest of the city is packed full of exquisite baroque churches, palaces and castles to keep you busy and happy for days!
10.  Helsinki, Finland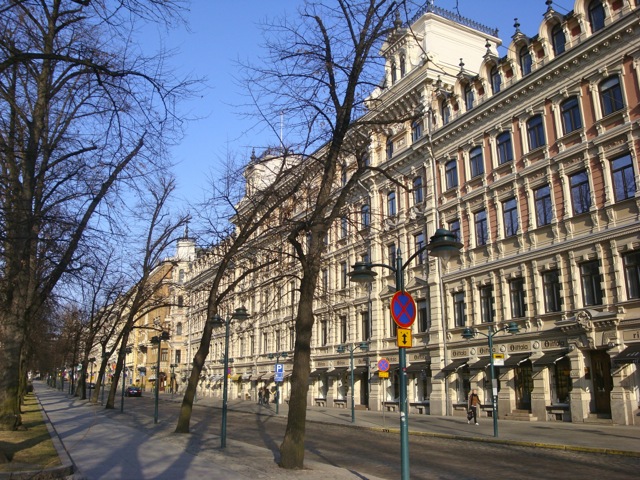 Helsinki likely doesn't make too many Top 10 lists, but that's one of the reasons I made my own!  On my trip to Scandinavia, I fully expected to be captivated by Copenhagen and swept away by Stockholm, but I found myself unexpectedly having a hell of a time in Helsinki.  (Ok, I know, enough with the cheesy alliterations).  I'm finding it really hard to explain why it's here, actually.  It's just the full experience of being there.  The architecture is unique and full of the influences of masters like Saarinen and Aalto who left their mark not only on Helsinki but on the entire world.  In the summer sun, hundreds flock to the city's parks to get their fill; but even in the bitter cold of winter, I found it somehow still full of life and energy.  I miss Helsinki — it both captivated me and swept me away.
11.  Prague, Czech Republic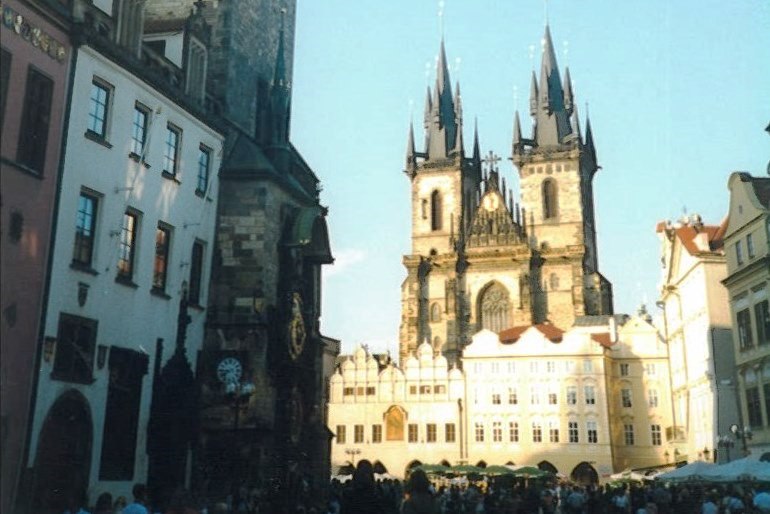 Prague or "Praha" was always a priority on my early list of places to see – just the name of the city elicited a certain feeling of curiosity for me.  It evoked an image and a stereotype of "Eastern Europe"  that I desperately wanted to break.  As expected, Prague smashed that stereotype right into the ground.  I discovered a city full of gorgeous cobbled town squares and streets, medieval bridges, churches and castles, grand opera houses and concert halls; the very best that any city in Western Europe could provide… at half the cost!  Today, while Prague may not be as 'cheap' as it used to be (except for the famous beer!), it is still a great value and has leaped right into the limelight, becoming a destination worthy to rival the likes of Paris and Rome.  Rightfully so.
12.  Odessa, Ukraine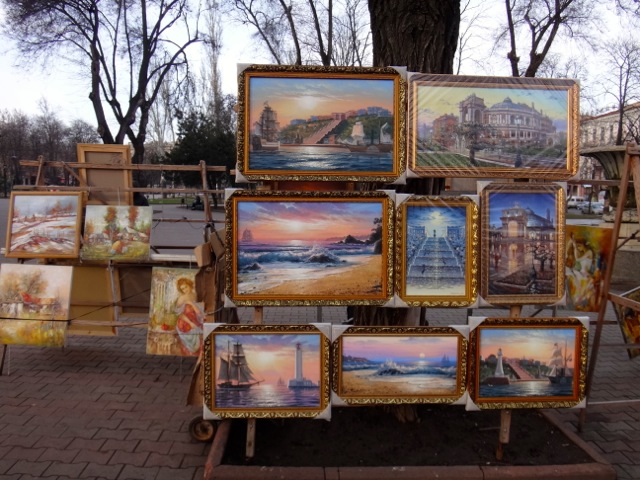 Odessa is another city that I've always been fascinated with and couldn't wait to visit.  While I was in Kyiv — which is beautiful — more than once I was told, "yes, Kyiv is nice, but wait until you see Odessa".  They were 100% right.  Odessa exudes a very elegant and very European charm – it's avenues and squares are packed with textbook examples of neoclassical and art nouveau façades.  Odessa may be Ukraine's third largest city, but it is arguably its first most beautiful.  While the famed Potemkin Steps are a major point of interest, it is the magnificence of Odessa's Opera and Ballet Theatre that takes first prize.  It was love at first sight for me and this building.  When I create my Top 10 (or 30!) most beautiful buildings, you'll find this Theatre up high on that list.  
13.  Lisbon, Portugal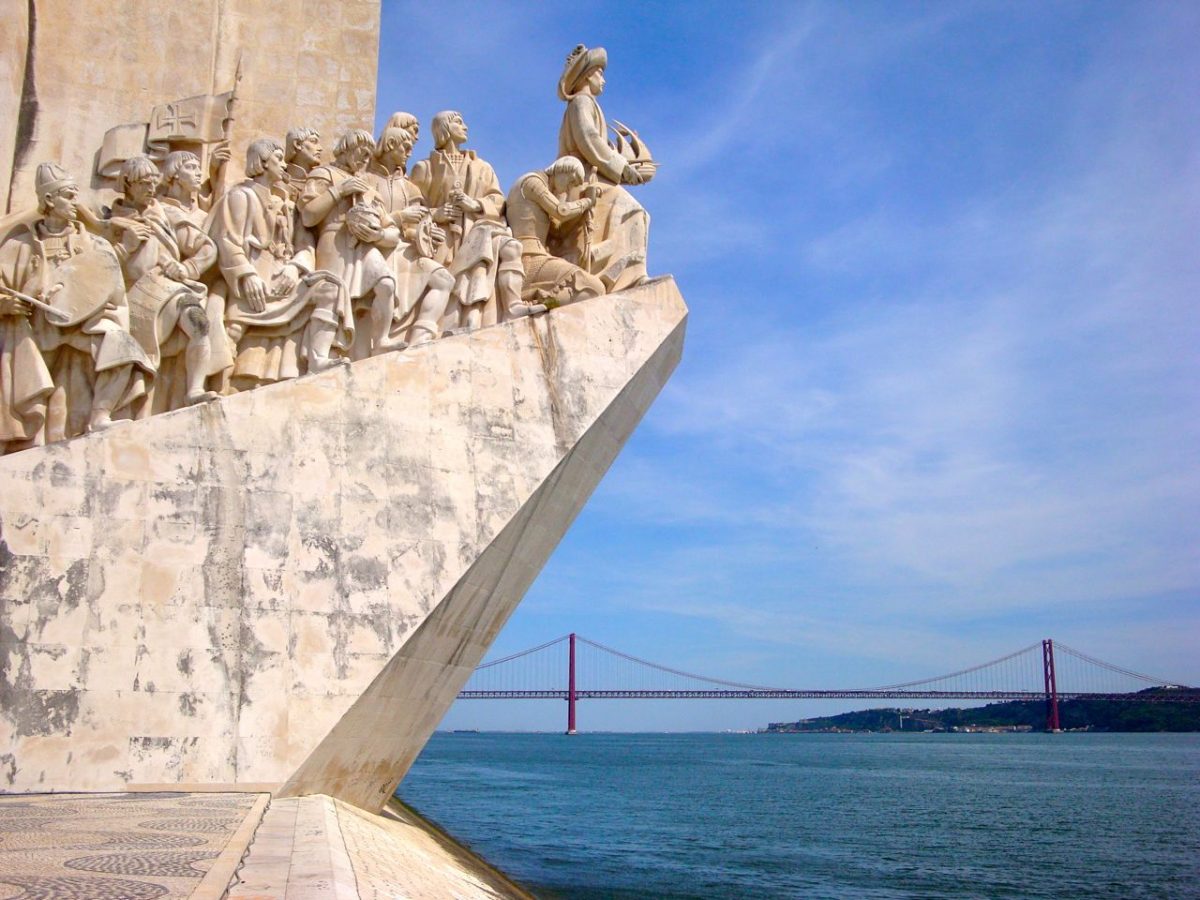 Often overshadowed by its mega-neighbor Spain, Portugal is an under-appreciated gem.  And Lisbon might just qualify for most underrated capital city in Europe.  Lisbon is absolutely fascinating.  There is a slight grittiness to the place — something almost not visible, though somehow noticeable.  What it is, actually, is authenticity.  Lisbon has a very tangible authenticity that other major European capitals lack.  It is this hard-to-explain feeling that adds a special twist to your wanderings as you explore Moorish Alfama's labyrinth of centuries-old alleys and small praças, or nibble on the unusually wonderful taste of a pastel de nata in Belém.  Don't forget to check out the impressive 'Monument to the Discoveries' while gazing out at the… wait, isn't that the Golden Gate?
14.  Munich, Germany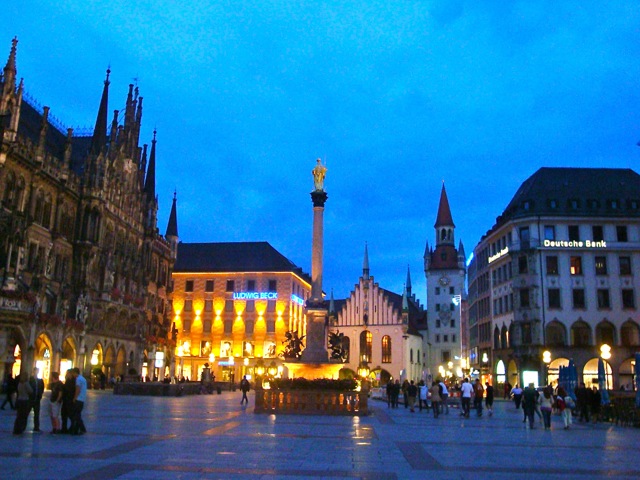 Munich is so much more than Oktoberfest!  And while lederhosen, lager and wienerschnitzel are usually the first things that come to mind when thinking of this Bavarian city, dig deeper and you could be enjoying a tasty Leberkäsesemmel at a Viktualenmarkt food stall, fresh lebkuchen at a winter-time Christmas market, or my favorite – authentic currywurst with yes, ok, a beer.  But enough with the food (I must be hungry!), Munich's centre is an extraordinary ensemble of gothic, baroque and renaissance buildings all vying for your attention.  The city's fantastic Neues Rathaus wins, with its 85-meter tower soaring high above Marienplatz and its celebrated Glockenspiel commanding more than a few moments of your time when the clocks strikes 11:00.
15.  Amsterdam, The Netherlands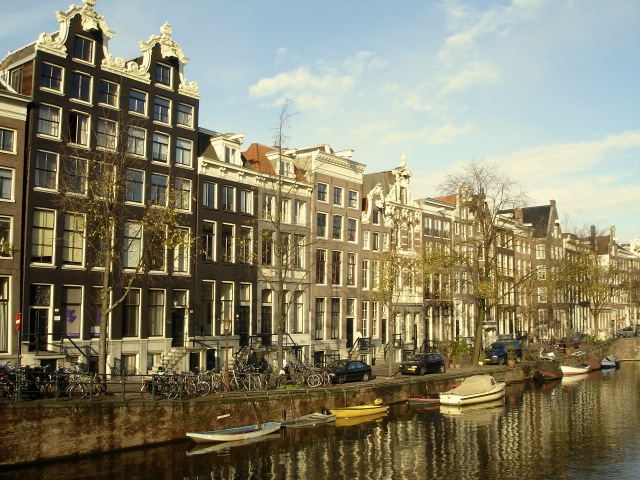 Amsterdam is a very unique place.  Being the capital of one of the first nations in the world to legalize marijuana and prostitution, and the first to legalize euthanasia, same-sex marriage, and most recently in March 2014, carrier-free SIM cards (yeah!), you know this city is different.  Sure, the row houses lining the impossibly picturesque canals are a feast for the eyes, and the museums like the Anne Frank House and Rijksmuseum have more than their fair share of history and art to showcase – but pair that with the ultra-liberal social attitudes of the locals, and you have a crazy, cool, sophisticated, fun, and beautiful city. Did I forget to mention the cheese?  I honestly had to buy an extra bag just to carry the dozens of delectable gouda cheese wheels I bought here.  Mmm.  Cheese.
16.  Bucharest, Romania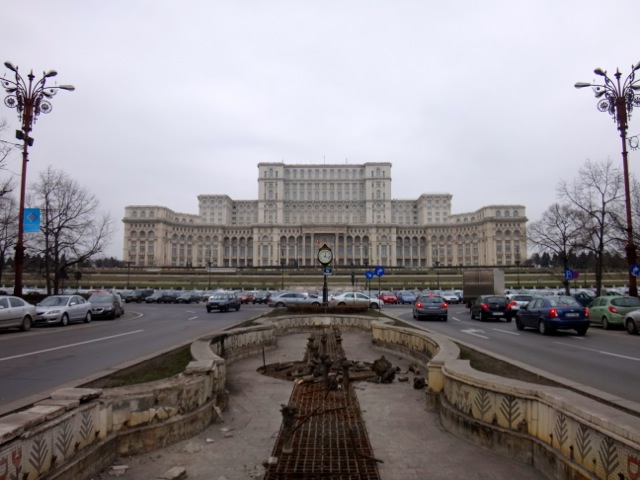 I love when cities surprise me.  This is essentially the most exciting thing about travel —  shattering preconceptions, seeing things for yourself; for what they really are.  Most new places surprise me in some way, but Bucharest really surprised me — and not just because I found myself understanding Romanian with my limited knowledge of Spanish! (!!!).  I expected to see countless grey, lifeless, concrete box apartment towers and government ministries – what I instead found was the most elegant of cities; wide, verdant boulevards lined with palatial mansions and masterpieces of classical architecture.  I was floored by both their quantity and level of beauty, on par with Paris or Vienna!  Even the Palace of Parliament, a monster of a building in the city centre, and the largest government building in the world, surprised me.  Upon closer inspection, it is a superlative work of art, inside and out.
17.  Moscow, Russia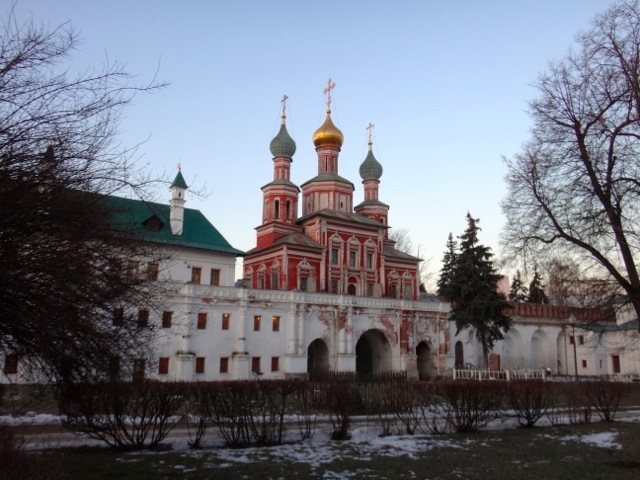 Russia's capital is a beautiful mega-city.  Visiting Moscow for the first time, I remember being mesmerized by Red Square and all its surrounding architectural gems – and then, taken even more aback by coming upon the world's largest McDonald's.  Say what??  That just seems so wrong, but hey, this is the new Russia!  Moscow's shiny new International Business Centre looks like a mini-Dubai or a futuristic Manhattan springing to life on the banks of the Moscow River.  The Novodevichy Convent, the Kremlin and Lenin's Tomb, the incredible Moscow Metro, and the 'Seven Sisters' are all phenomenal sights to see – but it is the colorful, onion-domed St. Basil's Cathedral that has bestowed upon Moscow one of the most iconic and instantly-recognizable buildings in the world.
18.  Antwerp, Belgium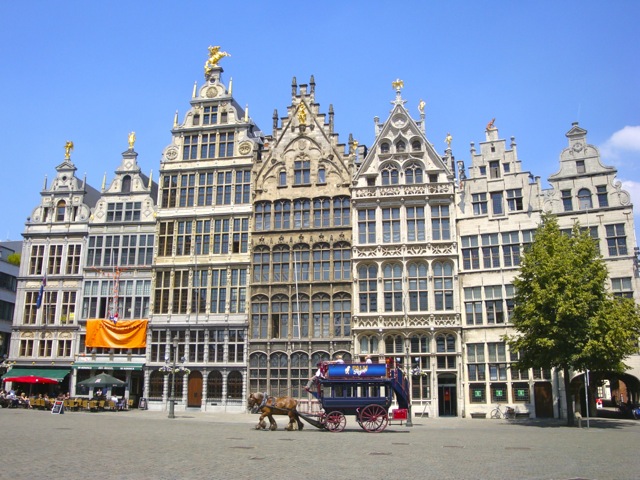 Antwerp's postcard-perfect main square is quite honestly the main reason I have this exciting Belgian city on the list.  From its town hall and stately guildhouses to its celebrated fountain and cool cafés, the Grote Markt charms – and walking past it all are elegant horse carriages and very fashionable people.  This city has class!  With just over 500,000 residents, Antwerp still manages to hold an enviable spot in fashion's top ten cities – it's #10 designation is quite an accolade considering that #1 – #9 are all cities of multiple-millions of people.  Exploring the city, you will surely be reminded of Antwerp's other main claims to fame – diamonds and Rubens (see what I did there?).  And thankfully, you're in Belgium again, so load up on the waffles, chocolate, and beer that I mentioned earlier in #7! 
19.  Dubrovnik, Croatia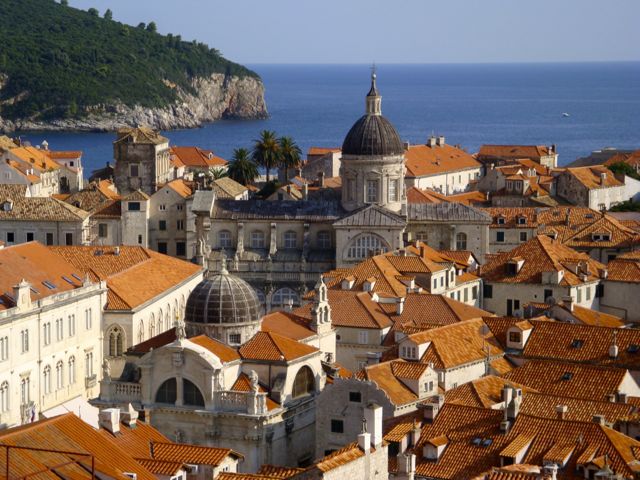 Croatia's most famous city is a fairy-tale town with some of the best-preserved city walls in the world and a historic centre filled with white limestone and red tile-roofed churches and palaces.  These Baroque, Renaissance and Gothic structures line Dubrovnik's main street promenade, the Stradun, and its beauty will enchant you.  Stay in a hotel or guesthouse within the city walls to get the full Dubrovnik experience – and make sure it has a roof-top terrace, where you can enjoy a delicious breakfast overlooking the old town and the Adriatic.  The dramatic contrast of a sea of bright red roofs abutting the sea of deep blue water is one of the simple joys of visiting this Dalmatian jewel.
20.  Madrid, Spain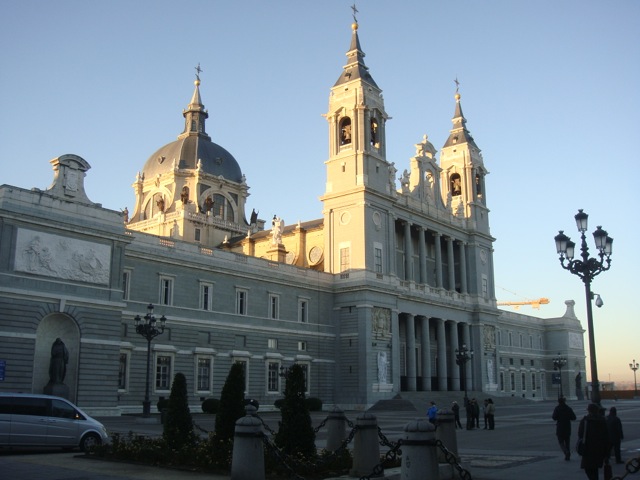 To be honest, I wasn't so enamored with Madrid when I first visited.  I'm not exactly sure why, maybe the attraction I had to the city was so completely overshadowed by Barcelona?  I don't know.  But what I do know, is when I visited Madrid again in 2013, I absolutely loved it.  And I found myself wondering why I had discounted it before!  The Gran Via alone is just stunning — full of gorgeous buildings, great shopping, and is a joy to stroll up and down.  I revisited all the places I had gone to before, but this time, I was in love – with the simple elegance of the Plaza Mayor and the Almudena Cathedral, the countless jamón and tapas bars, the Palacio Cibeles and Puerta de Alcalá, the churros and chocolate, the museums, the food, the life!  I'm not sure how I didn't see it all before, but Madrid definitely got me this time.
21.  Gdańsk, Poland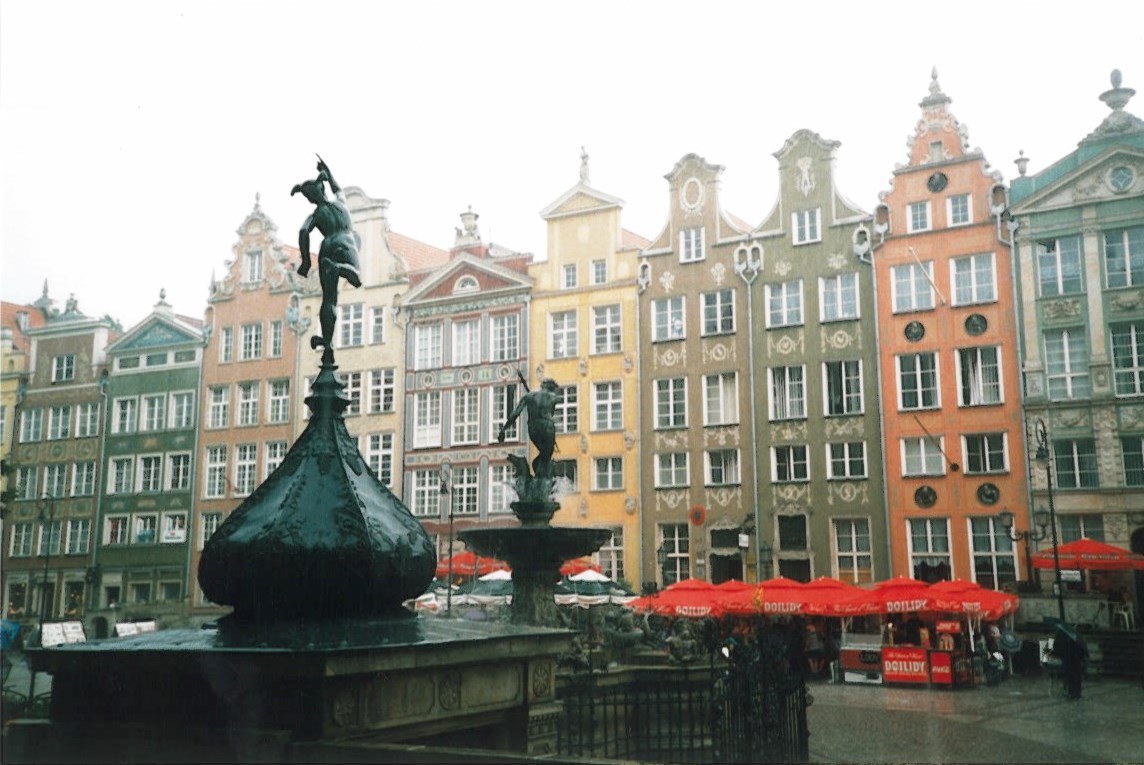 Poland was a wonderful surprise.  Kraków and Warsaw were resplendent with art, culture and sights galore;  Auschwitz and Wieliczka provided day trips filled with sobering and fascinating history.  However, none of this Polish charm and history compared to, or prepared me for, the spectacular city of Gdańsk.  At times Polish, at times German, Gdańsk was even at times its own country — the "Free City of Danzig" — complete with its own government, parliament, constitution, national anthem, stamps and currency!  Its volatile war-time history meant that much of the historic centre, including the pedestrian Długi Targ, or 'Long Market', was destroyed during World War II.  Its reconstruction in the '50's and '60's brought back to life one of the most beautiful historic city centres I've ever seen.
22.  Budapest, Hungary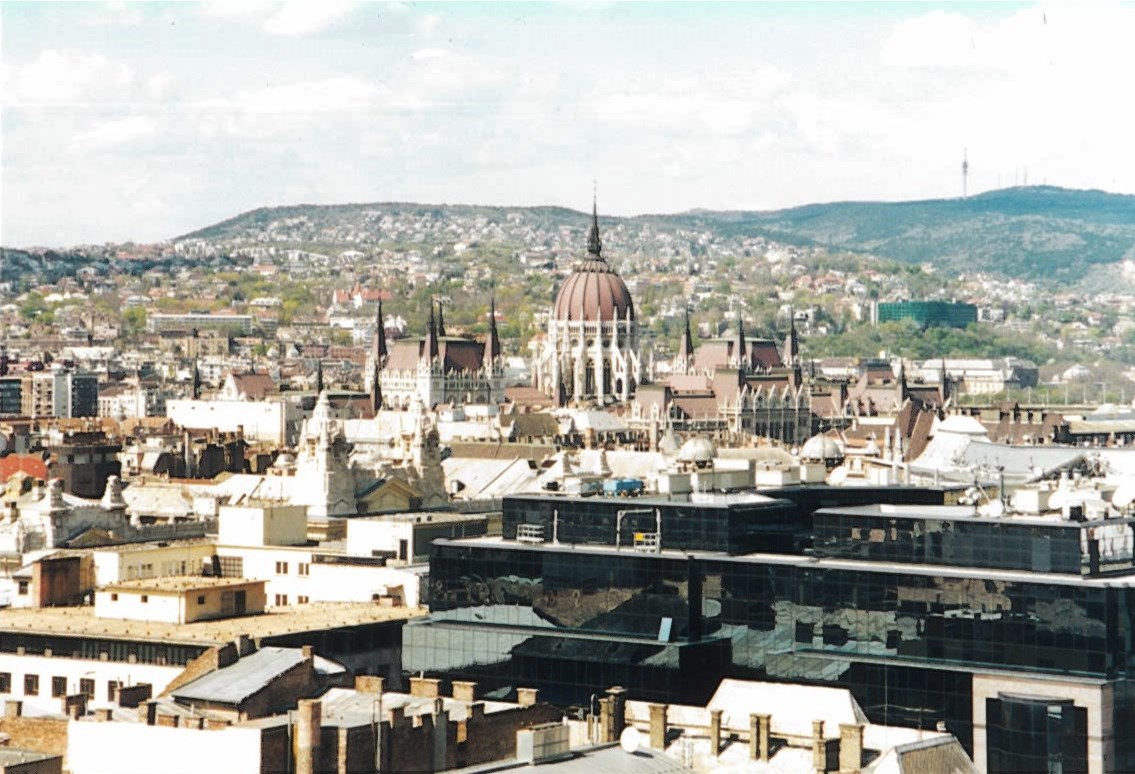 Hungary's jarringly beautiful Parliament building, with its piercing spires and extensive Gothic revival façade, sits stately in a commanding location on the banks of Budapest's section of the mighty Danube River.  This building would be enough to convince anyone to come and experience this lovely city, but there is a lot more.  Andrássy út, Budapest's most famous avenue is dotted with grand squares, theatres, art museums, fine restaurants and cafes, and exclusive boutiques – rivaling Paris' own Champs Élysées.  It is so famous, in fact, that along with the Old Buda Castle Quarter and the Banks of the Danube, beautiful 'Andrassy Avenue' is listed by name as part of Budapest's UNESCO World Heritage Site status.  Don't forget to stop by the Great Market Hall to pick up some famous Hungarian 'red gold' or paprika (which looks amazing on my homemade hummos, by the way)!
23.  Santorini, Greece
This legendary island has an almost Venice-like quality about it.  Not in terms of the city, but in terms of its reputation.  It is one of those places of extreme, unique beauty that cannot be oversold or overhyped.  It is as beautiful, and whitewashed, and blue-domed as your imagination would lead you to believe, when reading about it or hearing of it from a friend who had just returned.  And I was so tired of only 'hearing about it', I needed to see this for myself!  Santorini, or Thira, as the island is called, is actually the remains of volcanic caldera, and is home to several villages, each with its own character and charm.  The two most known and most photographed, are the town of Oia, with its brightly colored houses cascading dramatically downhill towards the Aegean Sea, and the village of Firostefani, providing the perfect, iconic view of that blue-domed, whitewashed church you originally came here to see.
24.  Belgrade, Serbia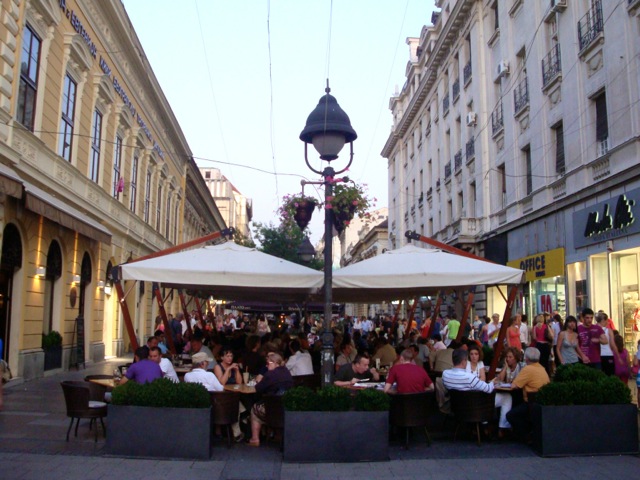 The memory of Belgrade that sticks out most in my mind, and somehow more than any other city I've visited in Europe, is the pedestrian experience – the amount of people spilling out onto the streets in the afternoon and well into the night, to enjoy ice cream or a cappuccino, an elegant dinner, or beer and shots of 'slivo' — was amazing.  Knez Mihailova, and many of its also pedestrianized tributaries and adjacent squares, were literally full of people.  Every restaurant, bar, café, ice cream shop, you name it – had an associated tent in the middle of the street with tables and chairs, and tons of people.  Of course, after seeing the highlights of Belgrade, including St. Sava's Cathedral and the Kalemegdan Fortress, I joined the party (slivo, anyone?) in one of the premier nightlife capitals of Europe.
25.  Valletta, Malta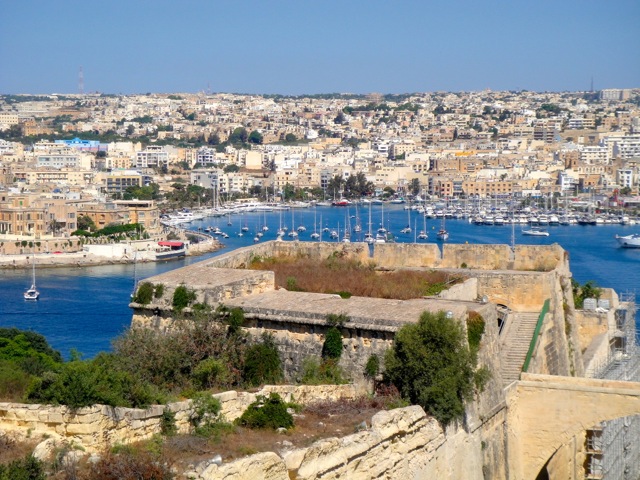 How such a small city on such a small island can pack in so much still baffles me, even after seeing how!  The beautiful Mediterranean island of Malta is 121 square miles (316 sq. km.) in total, which makes the entire country smaller than most of the cities on this list!  The storied history of Malta, with its Knights and Sovereign Military Order, is just as staggering as how much beauty is packed into its tiny capital of Valletta, the smallest capital city in the European Union, clocking in at only 0.3 square miles (0.8 sq. km.).  Valletta, "Il-Belt" in Maltese, is densely-packed with monumental Baroque structures, including the amazing St. John's Co-Cathedral.  Also notable are the city's richly decorated wooden balconies, often seen with green-painted windows and shutters, adding another layer of distinct character to Valletta's noble grid of streets. 
26.  Vienna, Austria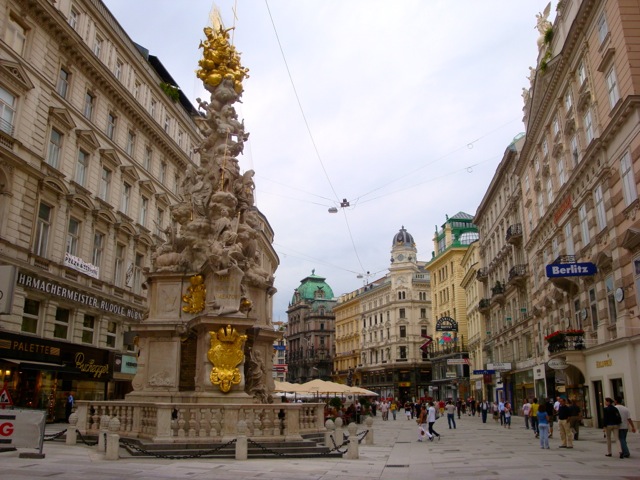 Vienna or "Wien" is a delight.  Its architecture is truly stunning, and certainly expected of one of the world's great cities.  Graben is one of the most pleasant pedestrianized avenues that I can think of, and days could be spent exploring its many offerings.  But even with all this around me – all I really want to do is just sit in a Viennese coffee house all day.  Just give me a window with a view, a newspaper, a marble-topped table, an Einspänner coffee and a slice (or three!) of sachertorte or apfelstrudel, and I'm a very, very happy guy.  Believe it or not, the "Viennese Coffee House Culture" is actually a UNESCO-listed "Intangible Cultural Heritage"!  After visiting Vienna and one of its incredible coffee houses like Café Central or Café Griensteidl, I think you would agree!
27.  Metz, France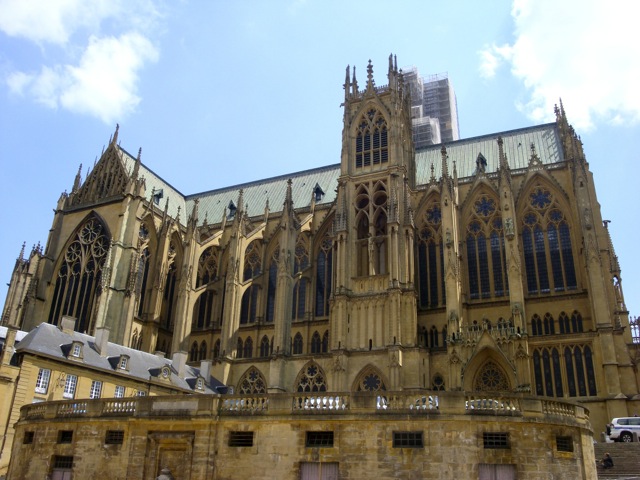 Driving from Strasbourg (#8!) to Luxembourg, I see a sign for "Metz".  I hadn't heard of this unusually-named French city before, so I googled it.  From what I read (briefly, since I was still driving!!), Metz seemed like an interesting town with a medieval centre and nice cathedral — worth a quick leg-stretching stop.   Hours later, I was still exploring this fascinating and relatively unheard of city.  Metz' Cathédrale St. Étienne is one of the grandest, largest, and most beautiful structures I've ever seen – inside, it was impossibly light and airy, with stained glass window expanses (the largest in the world!) that seemed to defy all laws of engineering.  The cathedral, along with the rest of the entire city, is built of a distinctive yellow limestone, giving Metz a very pleasingly homogenous and 'sunny' character.
 28.  Siena, Italy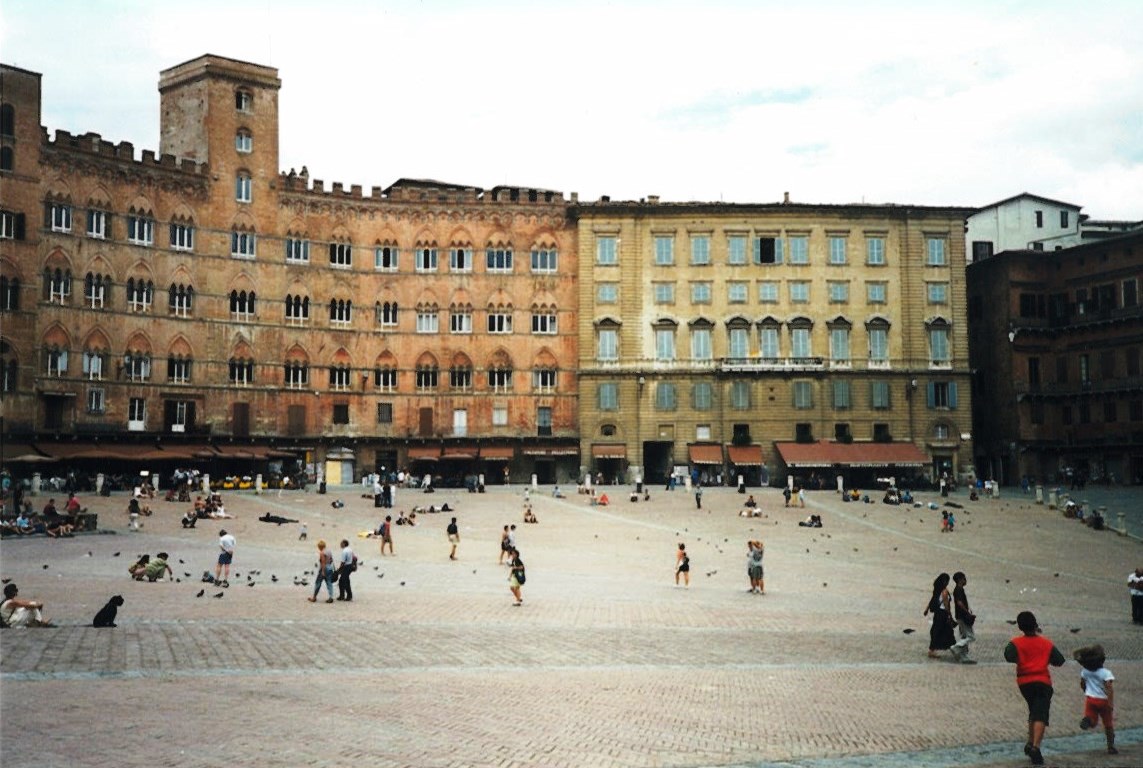 As much as I wanted to see Siena on my first trip to Italy, with Rome, Florence, Venice and Milan all on the itinerary, we just didn't have time!  We did have time to see San Gimignano though, so my four backpacking friends and I hopped on a bus from Florence to spend the day there.  We were all tired from a long night, fell asleep, and ended up in the middle of Siena!  They freaked out and took the first bus right back to San Gimignano.  I, of course, stayed!  I visited the beautiful and uncommonly black-and-white-striped Siena Cathedral, an outstanding example of Romanesque-Gothic architecture, but the main attraction was the Piazza del Campo – a beautiful shell-shaped plaza with a gentle slope where one could sit, relax, and watch the world go by.   That's exactly what I did for most of my time in Siena, and it still remains one of my fondest memories of Italy.
29.  Palermo, Sicily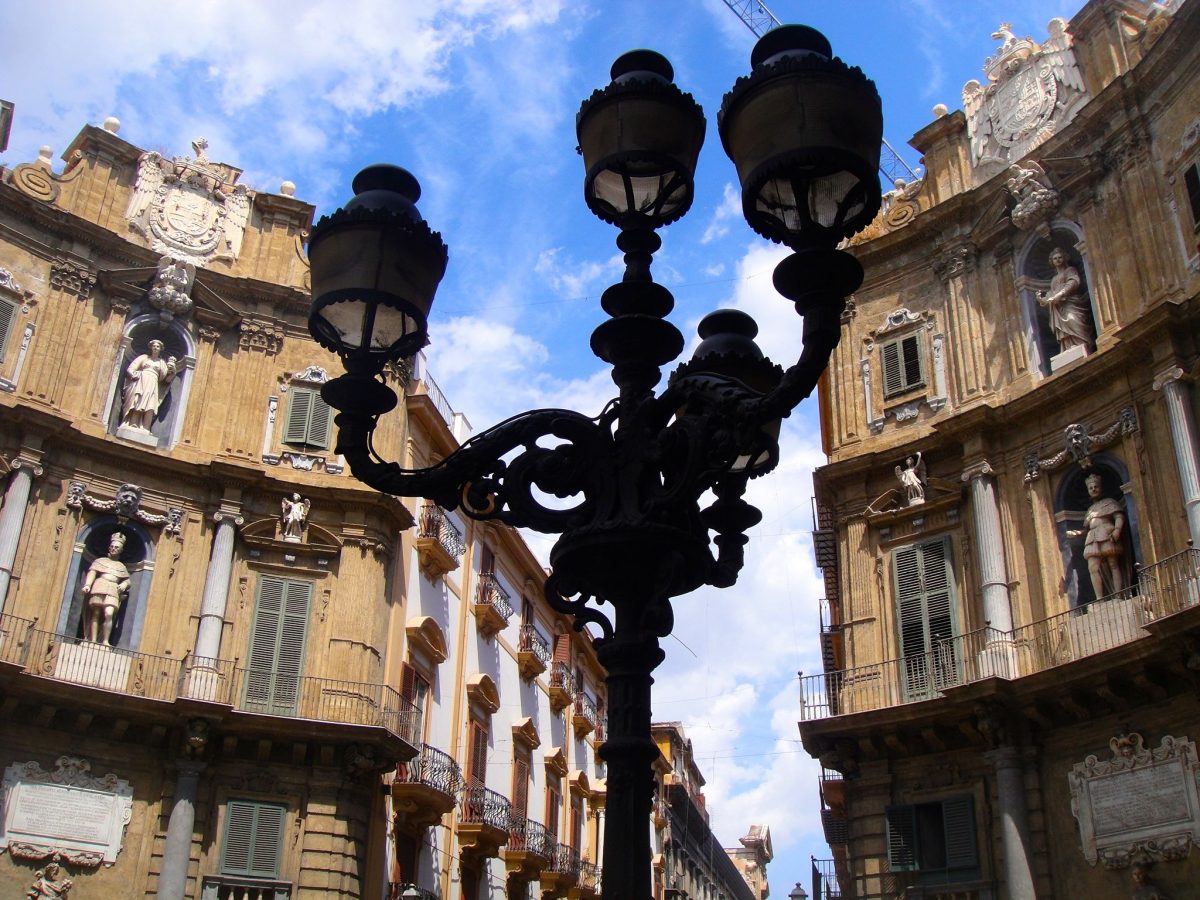 Sicily is so amazing and full of its own unique culture and spectacular sights and towns, that it could be a country in its own right.  Perhaps its association as part of Italy has kept most tourists at bay, bypassing it in favor of Italy's other, more famous cities.   And Palermo, capital of that football at the end of Italy's boot, is an extraordinary city of churches and cathedrals, with interiors bathed in gold-plated wonder.  Numerous plazas filled with gorgeous fountains and exquisite theatres break up lively streets lined with historic buildings — all mixed with just enough grittiness to keep things exciting.  Its emergence as one of Italy's top destinations is well underway, so go now – especially before a proposed bridge to the mainland is realized, sure to flood the island with more cars and tourists than you could imagine.
30.  Zagreb, Croatia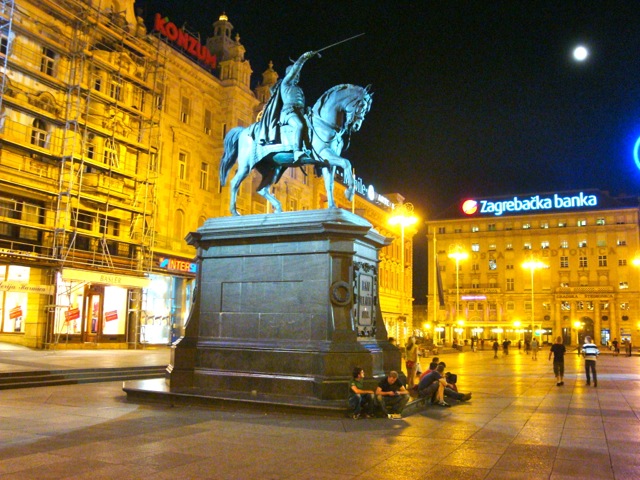 I'd heard of Dubrovnik of course.  I'd heard of Split, Rijeka, even Zadar and Rovinj.  But what about Zagreb?  I knew it was Croatia's capital, but it seemed that most people only use it as a connecting city to get to the coast as fast as they can.  I like to be a little different — so, for my first foray into Croatia, I chose to forgo those idyllic Dalmatian coastal towns and spent some time instead in its capital.  And I was happy that I did!  Dubrovnik may still have made it higher up on my list (#19) after I visited in 2009, but Zagreb made an impression.  It had a lovely centre, lively nightlife, and very, very few tourists.  One thing I really love while traveling is exploring little-known or under-appreciated places and having them to myself, minus the long lines and throngs of tourists.  Zagreb for me was one of these (few remaining!) special places.
This was a really hard list to make!  I realize I've left out some serious gems, but I can't list every city!  If I had five… ok, ten…  more spots (and it's my blog, so I do)…  then I would add these very honorable mentions:   
1.  Rome, Italy

3.  Berlin, Germany

5.  St. Petersburg, Russia

 

7.  Copenhagen, Denmark

 

9.  Milan, Italy

 

6.  Athens, Greece

4.  Kyiv, Ukraine

 6.  Stockholm, Sweden

 

8.  Valencia, Spain

10.  Granada, Spain
There you have it — my list of Europe's Top 30… er… 40 cities!  
If they're sorted by country, Italy wins with 5 cities on the list!   
Venice (#6)  Siena (#28)  Palermo (#29)  Rome (#31)  Milan (#39).
If you count Sicily as a separate "country", which I do, per the "country guidelines" I use from the TCC — then Italy has 4, and would then tie with Spain, which also has 4 cities:
Barcelona (#5)  Madrid (#20)  Valencia (#38)  Granada (#40).
In third place, these countries each have 3 cities on the list:
France — Paris (#5)  Strasbourg (#8)  Metz (#27)
Germany — Frankfurt (#4)  Munich (#14)  Berlin (#33)
And finally the countries with 2 cities each are: 
Belgium – Brussels (#7)  Antwerp (#18)
Austria – Salzburg (#9)  Vienna (#26)
Ukraine – Odessa (#12)  Kyiv (#34)
Croatia – Dubrovnik (#19)  Zagreb (#30)
Greece – Santorini (#23)  Athens (#32)
Russia – Moscow (#17)  St. Petersburg (#35)
I still have a lot of cities in Europe left to visit, so this will be a living list!  If any other cities manage to creep up into my favorites, or if I feel my thoughts have changed for whatever reason, then I'll do an update and repost!
I know lists like these are easy ways to get people happy or upset (depending on who's city was included or excluded!), but again, it's just a list of my personal favorites and my reasons why — it doesn't mean I didn't like excluded cities, or that I don't have 30 more favorites… I just needed a cut-off point!  🙂
I hope you liked this list, and would love to hear your comments!